VENDREDI 19 AVRIL 2013
de 23h à 6h (+ after sur place)
SUPER HERO SQUAD
2013... Notre époque fait face à une montée de la criminalité sans précédent, un conflit planétaire est sur le point d'éclater… Le Super hero squad sonne l'alarme et fais appel au super héro qui sommeil en toi le temps d'une nuit pour sauver la planète !
Hulk, Cat Women, Spiderman, Batman, Bat women, X-Men, Electra ... Le monde a besoin de vous...
La terre tremblera au son de la deep, la minimal, la house, la techouse et la techno !
Invitation facebook :
http://www.facebook.com/events/312041352255359/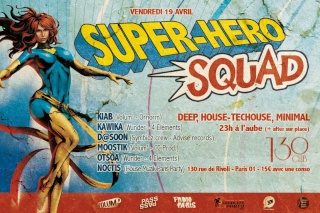 the great hero of the night
KIAB (Volum' - Ornorm)
http://www.facebook.com/pages/Deejay-KIAB/174288499315784
http://soundcloud.com/dj-kiab
http://www.myspace.com/djkiab
A ce jour, Kiab affine son style au cœur de sonorités techouse-techno et parvient à rassembler aussi bien son public qui lui reste fidèle depuis des années que la nouvelle génération qui le découvre dans des lieux comme le Klub, le Bellushi, le Petit Bain, le Cercle Rouge, La Scène Bastille, Le Respublika (Bordeaux), le 4 Éléments, le Bric à Brac, la Cantine du Batofar...
KAWIKA (Wunder - 4 Eléments)
https://soundcloud.com/djkawika
http://www.mixcloud.com/david-michel/winter-mix-2012-001/
DJ depuis 10 ans à Paris, inspiré par la bouillonnante scène berlinoise, Kawika vous propose un son minimal et deep house aux touches aériennes et groovy. Boulimique de nouveautés, il vous fera découvrir ses dernières trouvailles.
OTSOA (Wunder - 4 Eléments)
https://soundcloud.com/otsoa-1/mars-2013
http://www.mixcloud.com/Otsoa/
Pris d'un coup de foudre pour la French Touch dans les années 90, Otsoa a cultivé sa passion musicale autour d'artistes éclectiques et propose dans ses mixes un univers varié allant de la deep house à la techno en passant par la minimal et l'acid house.
NOCTIS (House Muzik Paris Party)
http://soundcloud.com/noctis-hmpp
http://www.facebook.com/nokxekd
MOOSTIK (Volum' - Conscience Collective)
http://www.facebook.com/moostik.volum
http://soundcloud.com/dj-moostik
https://twitter.com/djmoostik
http://www.myspace.com/moostikmix
Schizophrène, l'insecte est à l'aise sur de nombreux terrains.
Ses horizons musicales s'étendent de la deep la plus velour à la techno la plus brutal, traversent la minimal et s'égare parfois dans les breakbeats.
L'engouement pour les productions récentes et la nostalgie des vieilles fêtes, métissent ses mixs de morceaux cultes et nouveaux.
Ses derniers sets: Scène Bastille, Batofar, 4 Cléments, Klub, Caves Bastille, 130 Club, Bric à Brac, ...
Le groove restera incontestablement le fil conducteur qui maintiendra la cohérence dans ses sets.
D@soOn (Symbioz crew - Advise records)
http://soundcloud.com/dasoon
http://www.beatport.com/artist/soon/231842
Originaire de l'Yonne, D@soOn se révèle acteur confirmé de la scène techno alternative de sa région au travers de soirées, festivals ou autres rassemblements culturels liés aux musiques électronique au sein de son collectif «Symbioz crew».
Artistes aux multiple facettes et dévoreurs de tracks insatiable, ses sets se font découvertes à chacune de ses apparitions.
Plus récemment, c'est sur le label Advise que le jeune prodige se fait remarquer par ces compo avec «sunset techno house» .à suivre de très près ...
PAF : 15e avec une conso
!!! Viens déguisé !!!
!!! After sur place dès 6h du matin !!!
Point de raliement de tout les héros:
130 Club :
130 rue de Rivoli
75001 PARIS
Tél : 01 42 21 90 88
Accès :
Parking à proximité : 300 places
Métro : Louvre Rivoli - Pont Neuf - Châtelet
RER : A
Station Vélib': Les Halles Saint-Eustache
Plan :
http://maps.google.fr/maps?hl=fr&tab=wl
Situé en plein cœur de Paris, LE 130 CLUB offre un cadre atypique, dans une superbe cave voûtée avec pierres apparentes et bénéficie de 3 salles communicantes pouvant accueillir 350 personnes (bar, dance floor,bar à shots).
Asso VOLUM':
Facebook: Volum' Events Paris
https://www.facebook.com/VolumEvents
Twitter: volumparty
https://twitter.com/volumparty