Salut la communauté ,
Dernière rappel pour notre petite expo !!
«RENCONTRE - Dévernissage»
Exposition photo urbex et lightpainting
SAMEDI 15 FÉVRIER 2014
20h / 2h - Le Macareux (Paris 2)
Event facebook dévernissage:
https://www.facebook.com/events/345585138913280/?context=create&ref=2&ref_dashboard_filter=upcoming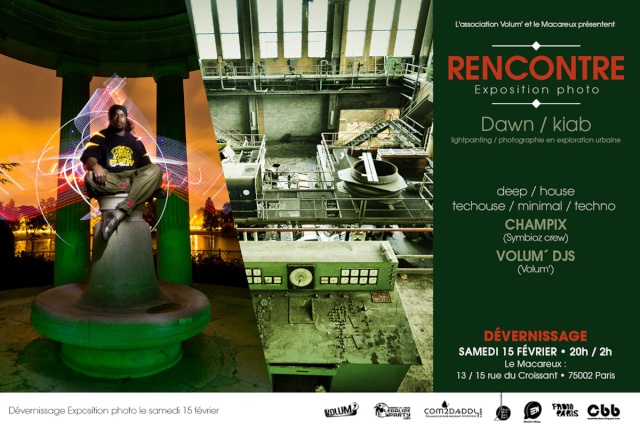 L'exposition commune "RENCONTRE" touchant à sa fin, Kiab & Dawn nous proposent de nous retrouver dans le cadre d'un dévernissage des plus festifs avec les djs de l'association Volum' et comme invité CHAMPIX du collectif Symbioz' crew.
Venez découvrir une dernière fois leurs approches personnelles et respectives de l'Exploration Urbaine...
Adeptes de friches industrielles, de manoirs abandonnés ou encore de carrières souterraines, ils restituent à travers les œuvres présentées leur regard sur la pratique. Motivés par l'attrait de ces lieux inaccessibles ou oubliés, leur recherche de l'insolite procure à la fois l'excitation et la quiétude.
Ils immortalisent le fruit de leur quête à l'aide de leur discipline de prédilection (la photographie pour Kiab et le lightpainting pour Dawn) afin de proposer leur vision poétique et singulière de ces espaces réappropriés pour un instant..."
(infos plus détaillées sur les artistes exposants plus bas)
Entrée libre et gratuite
Before teintée de musiques électroniques avec les djs Volum' et en guest CHAMPIX (Symbioz crew):
http://soundcloud.com/champixxxx
Natif de Marseille, ses premières influences sont issues du rap.
En 2010 il intègre le collectif Symbioz et distille des mixes break-beat. Remarqué à la fête de la musique en 2011, il se produit régulièrement au Café De La Gare De l'Est (89), puis est à la Scène Bastille à Paris avec Lowkey & Kardinal, Kiab et Moostik.
Principalement breakbeat, ses horizons se tournent aussi vers la psytrance, la tranceprog et la techno.
Pour l'occasion, il nous concocte un set surprise dont il a le secret ...
Volum':
http://soundcloud.com/dj-moostik/tracks
http://soundcloud.com/dj-kiab
Le Macareux (Galerie, concerts):
13 / 15 rue du Croissant
75002 Paris
01 42 36 48 67
06 15 92 36 91
Métro: Bourse / Sentier / Grands Boulevards / Bonne Nouvelle / Châtelet Les Halles
(à 10mn à pieds de l'église St Eustache)
https://sites.google.com/site/lemacareuxbar/home
https://www.facebook.com/LeMacareux/info
PLAN:
https://maps.google.fr/maps?ie=UTF-8&q=Le+Macareux+Vert&fb=1&gl=fr&hq=macareux+paris+02&cid=6590610239861521362&ei=s2W4UuumONSn0wWmwIEo&ved=0CKYBEPwSMA8
BIOGRAPHIES ARTISTES EXPOSANTS:
KIAB (Volum' / Ornorm)
http://www.flickr.com/photos/djkiab/
https://www.facebook.com/kiab.line
https://www.facebook.com/pages/Deejay-KIAB/174288499315784?ref=ts
"En 1992, avec mes premières free parties, j'ai commencé à découvrir et à apprécier ces lieux chargés d'histoires. C'est en 2005 que j ai commencé la photographie pour ensuite me perfectionner au fil des années. Plus récemment, en 2011, je me suis lancé dans l'exploration urbaine dite Urbex…"
"In 1992, with my first free parties, I began to explore and enjoy these places full of history. A few years later, in 2005, I started photography and then skilled up little by little over the years. More recently, in 2011, I launched into urban exploration or "Urbex"..."
DAWN (Volum')
https://www.facebook.com/dawnlightgraff?fref=ts
https://fr-fr.facebook.com/dawnlightgraff
Dawn est un lighter et un bodypainter né en région parisienne de parents originaires de Pointe-à-Pitre, Guadeloupe. Il est issu d'une famille dans laquelle la pratique artistique est par tradition primordiale et essentielle. Passant ses plus jeunes années entre le conservatoire et les terrains gazonnés et autres gymnases, il est ensuite attiré et très fortement influencé par la culture Hip-Hop à partir de la fin des années 80, Il élargi par la suite ses influences à partir des années 90 au gré des rencontres et des choix de vie, ébauchant ainsi l'esquisse du grand curieux artistique qu'il deviendra par la suite.
Depuis janvier 2013, il entame une série de collaborations artistiques variées et de rencontres pour aiguiser la vision et élargir sa palette. Son style, souvent qualifié de «mécanique» ou apparenté au Futurisme, tend à se ramifier au gré de ses influences et de ses inspirations.
► Asso VOLUM':
https://www.facebook.com/VolumEvents
https://twitter.com/volumparty