Hello la comunauté !
Petit tour du côté de votre forum car la 3èm de la résidence PUMP' UP THE VOLUM' de l'asso Volum' est lancée ...
VENDREDI 28 FEVRIER de 20h ... 2h du mat ! On vous y attend en forme ...
Dans un Bric à Brac infernal de ziks electroniques en tout genres allègrement aspergé de coups de poskats, la résidence de l'asso. VOLUM' en remet une troisième couche du côté d'Oberkampf !!
Invitation facebook:
https://www.facebook.com/events/400881823377820/?context=create&ref_dashboard_filter=upcoming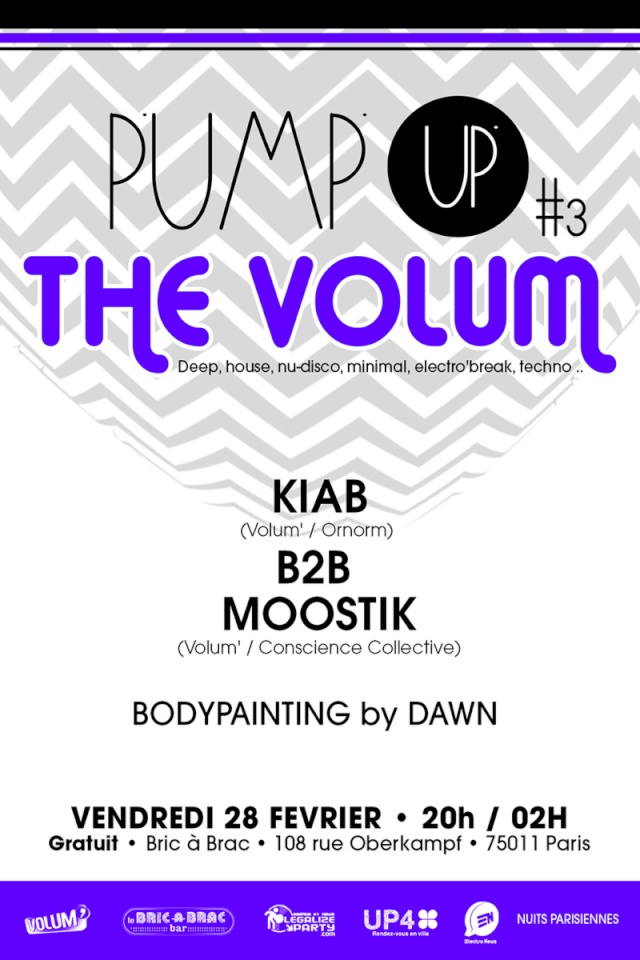 Collectif Parisien, l'association Volum' composée de djs, organisateurs, photographe mais surtout de passionnés de culture rave aux travers d'évènements à dominante deep, house, minimal, techouse et techno. Depuis débuts des années 90, les deux potes écument les clubs, les bars, les raves, les soirées privées et autres free party avec la même passion au ventre à faire danser les gens. 2013, le groupe s'agrandit avec l'arrivé du lightpainter et bodypainter confirmé DAWN accompagné de Fanny.
!! PUMP UP THE PARTY !!
DAWN (Volum') présent pour une performance bodypainting:
https://fr-fr.facebook.com/dawnlightgraff
MOOSTIK (Volum')
http://soundcloud.com/dj-moostik/tracks
https://www.facebook.com/djmoostik?ref=ts
http://www.residentadvisor.net/profile/moostik
https://twitter.com/djmoostik
B2B
KIAB (Volum' / Ornorm)
http://soundcloud.com/dj-kiab
https://www.facebook.com/pages/Deejay-KIAB/174288499315784?ref=ts
http://www.ornorm-events.com/
GRATOS !!
cool' bar prices !!
BRIC BRAC
108 rue Oberkampf - 75011 Paris
M° Parmentier (ligne 3) / M° Menilmontant (ligne 2)
Facebook :
https://www.facebook.com/LEBRICABRACBAR
Asso VOLUM':
Facebook: Volum' Events Paris
https://www.facebook.com/VolumEvents
Twitter: volumparty
https://twitter.com/volumparty