Pti bonjour à la communauté ,
PUMP' UP THE VOLUM' , c'est la rentrée et elle est gratinée:)
Tracks frais, vinyles qui craquent et fichiers d'une autre planète, les deux lascars  nous promettent un Bric à Brac de musiques électroniques en tout genres...
Des raves NRV aux clubs, il n'y à qu'un pas pour ces deux brigands: AKTA versus MOOS ... y'à comme un air de revival: RAVE ON !!!
SAMEDI 6 SEPTEMBRE
20h ... 2h du mat !
Event facebook:
https://www.facebook.com/events/249060598622291/?fref=ts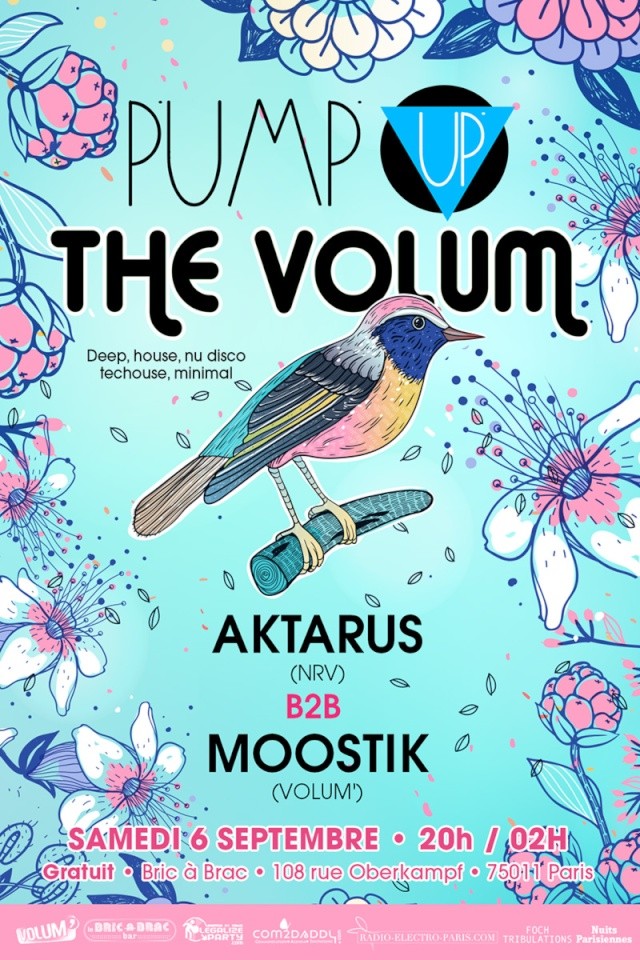 AKTARUS (NRV)
http://soundcloud.com/aktarusnrv/tracks
http://www.livestream.com/pcbradio/video?clipId=pla_5ab8a93b-2312-4fbe-bbff-4e8bc3889c31
Contributeur de la scène techno française depuis les années 90, il a participé à son émergence en France avec la création du collectif N.R.V. BIG BANG DJs et du label associé NRV RECORDS : une aventure qui durera 7 ans avec ses amis et djs Naomix, Hip noise, Rabbiax, Randy et Drym'z.
Principalement DJ Résident au Gibus, puis DJ au Rex lors des fameuses "nuits NRV records",  il s'envole 3 années pour mixer sous les sunlights des tropiques dans les lieux les plus courus de St Barthélemy (Nikki Beach, Feeling, Yatch club)
De retour sur Paris depuis, il continue à faire bouger vos soirées avec ses sets tribal tek et house entre autres au Batofar, Bric-à-Brac, l'Oberkafé, le Soleil de la Butte, en after au Base Bar à Lausanne (Suisse) + soirées privées.
B2B
MOOSTIK (Volum')
http://soundcloud.com/dj-moostik/tracks
https://www.facebook.com/djmoostik?ref=ts
http://www.residentadvisor.net/profile/moostik
https://twitter.com/djmoostik
L'aventure commence début des années 90 avec les soirées "Fantôm".
De l'organisation des premières raves dans sa région (89) au Dôme de Saint Ange,  des résidences sur Bordeaux comme la Crypte à la programmation électronique du Complex ou celle de la web radio BDCone la passion est restée la même et développe actuellement l'asso Volum'.
Il a joué avec Popof, David Duriez, Unu, Joey Beltram, Woody Mc Bride, Olivier Giacomotto...
Schizophrène musical, ses choix musicaux sont multiples : deep house, house, techouse, techno, minimal, acid'techno, breakbeat … Ce soir le ton sera techouse' techno …
!! PUMP UP THE PARTY !!
GRATOS !!
cool' bar prices !!
BRIC BRAC
108 rue Oberkampf - 75011 Paris
M° Parmentier (ligne 3) / M° Menilmontant (ligne 2)
Facebook :
https://www.facebook.com/LEBRICABRACBAR
Asso VOLUM':
Facebook: Volum' Events Paris
https://www.facebook.com/VolumEvents
Twitter: volumparty
https://twitter.com/volumparty
Création graphique: Nicolas Dernoncourt / Kiviv
https://www.facebook.com/comcaseprononce?fref=ts