Olâ le fofo !!
Vinyles poussiéreux, mp3 des plus frais et de la deep à la grosse techno, les deux lurons  nous serviront un Bric à Brac de zik en tout genres...
Passes faire un tour sur l'event ou la page Volum' Events Paris si tu as des envies musicales...
VENDREDI 1er MAI
à partir de 20h ...
PUMP' UP THE VOLUM' !!!!
Event facebook:
https://www.facebook.com/events/422112697962359/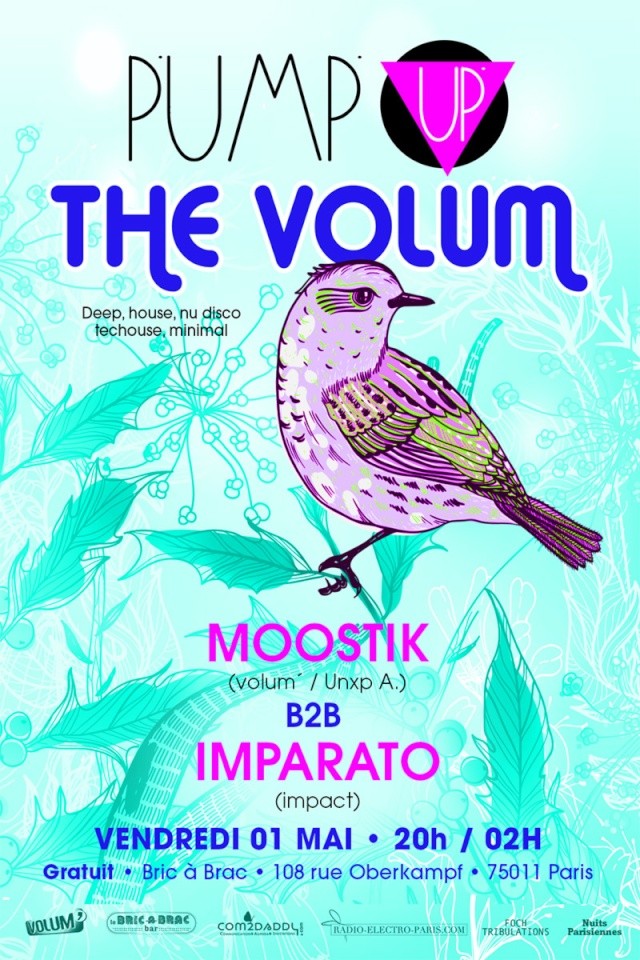 Dj's deep, house' techouse, nu-disco, minimal, techno … :
IMPARATO (Impact)
https://www.facebook.com/imparatomusic
http://soundcloud.com/imparato
http://www.residentadvisor.net/dj/imparato
http://dj.beatport.com/imparato
Imparato est un DJ et compositeur de musiques électroniques depuis 2001. Ses créations sonores et visuelles ont souvent un lien direct avec l'idée de défaillances techniques.
En 2008, il étudie à la school of the art institute of Chicago où il apprend les techniques de studio, l'histoire du rythme et des musiques électroniques ainsi que l'interaction audio/vidéo. Il obtient sa propre émission de radio hebdomadaire sur plusieurs radios européennes et américaines dont une résidence sur Storm:Kraft radio avec le projet Impact. Il y diffuse ses propres créations mais aussi les musiques qui l'inspirent, notamment une revue de l'histoire de la techno, de la house et des musiques locales jusqu'à Détroit.
Il joue dans plusieurs soirées parisiennes (Bus palladium, Elysée Montmartre, Chez Moune, 4 Eléments, OPA…) où il mixe de la techno à consonances étranges parfois atonales mais toujours rythmiquement énergique. Il fonde et dirige le projet IMPACT où il obtient la résidence à l'OPA et au 4 éléments.
en ping pong avec
MOOSTIK (Volum')
http://soundcloud.com/dj-moostik/tracks
https://www.facebook.com/djmoostik?ref=ts
http://www.residentadvisor.net/profile/moostik
https://twitter.com/djmoostik
!! PUMP UP THE PARTY !!
Collectif Parisien, l'asso Volum' composée de djs, organisateurs, photographes mais surtout de passionnés de culture rave aux travers d'événements à dominantes deep, house, minimal, techouse et techno. Depuis débuts des années 90, les deux potes écument les clubs, les bars, les raves, les soirées privées et autres free party avec la même passion au ventre à faire danser les gens.
!! BEFORE GRATUITE !!
cool' bar prices !!
BRIC BRAC
108 rue Oberkampf - 75011 Paris
M° Parmentier (ligne 3) / M° Menilmontant (ligne 2)
Facebook :
https://www.facebook.com/LEBRICABRACBAR
Asso VOLUM':
Facebook: Volum' Events Paris
https://www.facebook.com/VolumEvents
Twitter: volumparty
https://twitter.com/volumparty
Création graphique: Nicolas Dernoncourt / Kiviv
https://www.facebook.com/comcaseprononce?fref=ts