Hello le fofo !!
«I WANT TO BE A RESIDENT» fait sa rentrée le JEUDI 24 SEPTEMBRE 2015 dès 19h...
Amalgame de rythmes hypnotique sur délayage de sons obsédants, le 4 Éléments se fera le repaire de l'état major de Sieur Aktarus du crew NRV qui invitera pour sa rentrée «I WANT TO BE A RESIDENT»  ls djs Alyotis et Moostik.
Deep' techouse - technoïstique au programme !
See you … ;)
Event facebook:
https://www.facebook.com/events/1627175844216181/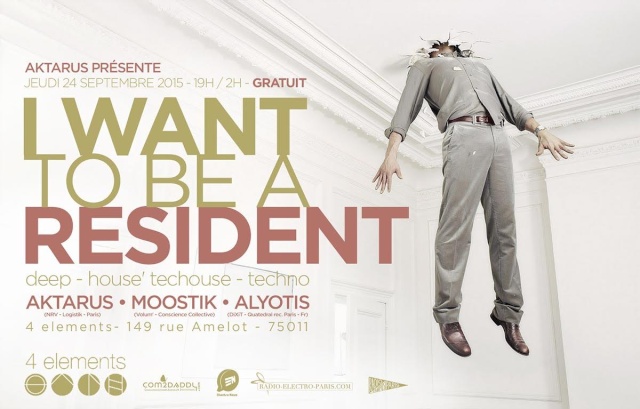 Dj'sets:
AKTARUS (NRV - Logistik – Paris)
http://soundcloud.com/aktarusnrv/tracks
https://www.facebook.com/aktarus.nrv
http://www.livestream.com/pcbradio/video?clipId=pla_5ab8a93b-2312-4fbe-bbff-4e8bc3889c31
Contributeur de la scène techno française depuis les années 90, il a participé à son émergence en France avec la création du collectif N.R.V. BIG BANG DJs et du label associé NRV RECORDS : une aventure qui durera 7 ans avec ses amis et djs Naomix, Hip noise, Rabbiax, Randy et Drym'z.
Principalement DJ Résident au Gibus, puis DJ au Rex lors des fameuses "nuits NRV records", il s'envole 3 années pour mixer sous les sunlights des tropiques dans les lieux les plus courus de St Barthélemy (Nikki Beach,  Yatch club)
De retour sur Paris depuis, il continue à faire bouger vos soirées avec ses sets tribal tek et house entre autres au Batofar, Bric-à-Brac, l'Oberkafé, le Soleil de la Butte, en after au Base Bar à Lausanne (Suisse) + soirées privées.
MOOSTIK (Volum' – Conscience Collective)
http://soundcloud.com/dj-moostik/tracks
https://www.facebook.com/djmoostik?fref=ts
https://twitter.com/djmoostik
Schizophrène, l'insecte est à l'aise sur de nombreux terrains. Ses horizons musicales s'étendent de la deep la plus velours à la techno la plus brutal, traversent la minimal et peuvent aussi s'égarer dans les breakbeats.
L'engouement pour les productions récentes et la nostalgie des vieilles fêtes, métissent ses mixs de morceaux cultes et nouveaux.
Le groove restera incontestablement le fil conducteur qui maintiendra la cohérence dans ses sets.
ALYOTIS (DiXiT/Quatedral record Paris – Fr)
www.soudcloud.com/alyotis
Bonne figure des nuits parisiennes, Alyotis a fait ses armes auprès d'Elegia (F communications) et Radikal Groove records.
Dj, producteur, remixeur … le trubilion touche à tout a à son actif un très grand nombre de collaborations variées : de Jérome Pacman à Sébastien Bromberger (Modélisme), de Missive records avec Julien Parisé à Quatédral records en passant par ::OXYGEN:: et Mixvibes son sponsor. Son style manie avec dextérité les influences allemandes, la deeptechno, le groovy américain et la légéreté de la Minimal Muzik.
✖✖ BAR LE 4 ÉLÉMENTS:
(01) 47 00 34 11
149 rue Amelot - 75011 Paris
Ⓜ République / Filles du Calvaires / Oberkampf
http://www.bar4elements.com/
https://www.facebook.com/4elements2.0?rf=182878485068091
✖ Free, cool bar'prices,fumoir & chill ,...
160 m2 répartis sur 2 niveaux et 4 salles, la structure est un hybride entre bar et club ou tes 5 sens seront en éveils.
Doté d'un sound-system multi diffusion Electrovoice l'endroit se veut avant tout dédié à une programmation pointue et éclectique.