Salut le fofo !
Fiesta de dernière minute le samedi 5 mars de 22 h … 6 h
THE TECHNOSMOKE
Retour de la ptite boîte à faire danser du Smooker à la douillette Foule Pigalle... Et pour fêter dignement son come' back, nous recevrons une clica de trublions technoide Parisienne et de Navarre: Moostik, Loran LG, Ozone !!!!
Event facebook:
https://www.facebook.com/events/1117651548265837/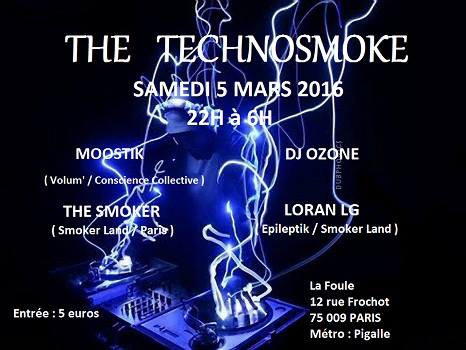 Techouse – techno avec les djs
● Moostik (Volum')
SC:
http://soundcloud.com/dj-moostik/tracks
FB:
https://www.facebook.com/djmoostik?fref=ts
RA:
http://www.residentadvisor.net/profile/moostik
TW:
https://twitter.com/djmoostik
Schizophrène, l'insecte est à l'aise sur de nombreux terrains.
Ses horizons musicales s'étendent de la deep la plus velours à la techno la plus brutal, traversent la minimal et peuvent aussi s'égarer dans les breakbeats.
L'engouement pour les productions récentes et la nostalgie des vieilles fêtes, métissent ses mixs de morceaux cultes et nouveaux.
Le groove restera incontestablement le fil conducteur qui maintiendra la cohérence dans ses sets.
● The Smoker ( Smoker Land / Paris )
SC:
https://soundcloud.com/the-smokers-1
Fhttps://www.facebook.com/The-Smoker--1625816227680775/?ref=hl
MC:
https://www.mixcloud.com/THESMOKERLINEMIX/
WEB:
https://hearthis.at/rzzcyrwk/
● Loran LG ( Epileptik / Smoker Land / Paris )
● Ozone
SC:
https://soundcloud.com/dj-ozone-377181673
FB:
https://www.facebook.com/DJ-OZONE-527717994044954/?fref=ts
DJ depuis une vingtaine d'années, Ozone se révèle véritable «tout - terrains» des musiques électronique.
Rapidement, il devient acteur du mouvement Free Party, en tant qu' organisateur avec l'association Kartel avec entre autres les fameuses soirées du Dôme de Saint Ange en 1999.
Plus tard il s'oriente vers un genre techno plus deep et minimal mais toujours dirigé vers le danceflo
Parallèlement, il se met à composer ses propres titres toujours dans un univers qui lui est très personnel.
Un artiste à découvrir ou redécouvrir …
Entrée: 5 euros
La Foul' E Pigalle
12 rue Frochot - 75009 Paris
01 45 26 14 13
Métro: 12 – 2 Pigalle // 13 – 2 Place de Clichy // 7 Le Peletier
FB:
https://www.facebook.com/lafoulepigalleofficiel/
Avec:
The Smoker Land
https://www.facebook.com/groups/996808590338568/
Agenda Soirée Electro Paris
https://www.facebook.com/groups/1530362660587492/