Un pti bonjour au forum,
Ce pti post pour vous tenir informé de Dreamy mood le vendredi 8 juillet 2016 de 23 h à 5 h
Event facebook :
https://www.facebook.com/events/1742426462672390/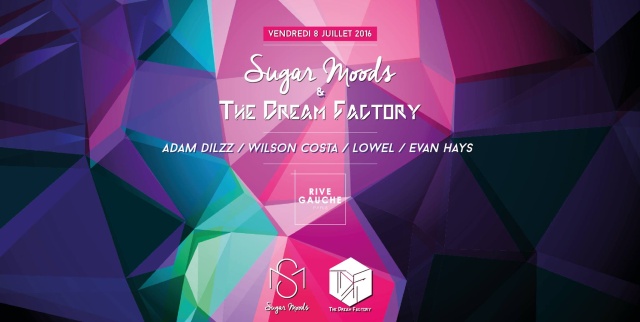 Le Rive Gauche accueille le label Sugar Moods et le collectif The Dream Factory le temps d'une soirée qui s'annonce envoutante et mémorable.
En effet, le 8 juillet prochain vous pourrez y retrouver Adam Dilzz & Wilson Costa, deux des trois artistes à l'origine du label Sugar Moods. Label dont le concept se développe autour de la house, en grande majorité UK et deep,
toujours dans la recherche d'un contenu de qualité, de basses groovy et de mélodies envoûtantes.
A leurs côtés: Evan Hays & Lowel seront également de la partie, fondateurs du collectif The Dream Factory ils assureront deux sets Deep puis Tech House dans un esprit Chill & Groove, adaptés aux beaux jours que l'on aura tant attendu.
Line Up
Adam Dilzz ( Sugar Moods )
https://soundcloud.com/adamdilzz
Wilson Costa ( Sugar Moods )
https://soundcloud.com/sugar-moods
Lowel ( The Dream Factory )
https://soundcloud.com/djlowel
Evan Hays ( The Dream Factory )
http://www.soundcloud.com/haystdf
Infos Pratiques :
Tarifs :
Gratuit avant 01h (Pour être sur liste, postez sur l'événement votre nom + nombre de personnes)
10 euros après 01h
Vestiaire : 2 euros l'article, 4 pour les gros sacs .
Accès au Club : "Le Rive Gauche" 1,rue du sabot 75006 Paris
par métro à 200m : ligne 4 St germain des près
par bus : Lignes 39, 63, 86, 95, N02, N12, N13
Avec MESSAGE' C. :
http://www.messageculturel.com