Oyé ! Oyé le forum !!
« Ritual » est de retours le samedi 9 juin 2018 de 22 h 45 à  5 h du matin …
Event Facebook :
https://www.facebook.com/events/1541120599344218
Enchevêtrements de samples machinaux, mélodie syncopée ou lascive… l'un des maîtres de cérémonies du théâtre Parisien : DJ FREDDY, nous grisera de ses sortilèges House le temps d'un looooooooong' set.
Pour introduire le rite avec légèreté, Moostik nous réserve mille et un enchantements Deep puis House.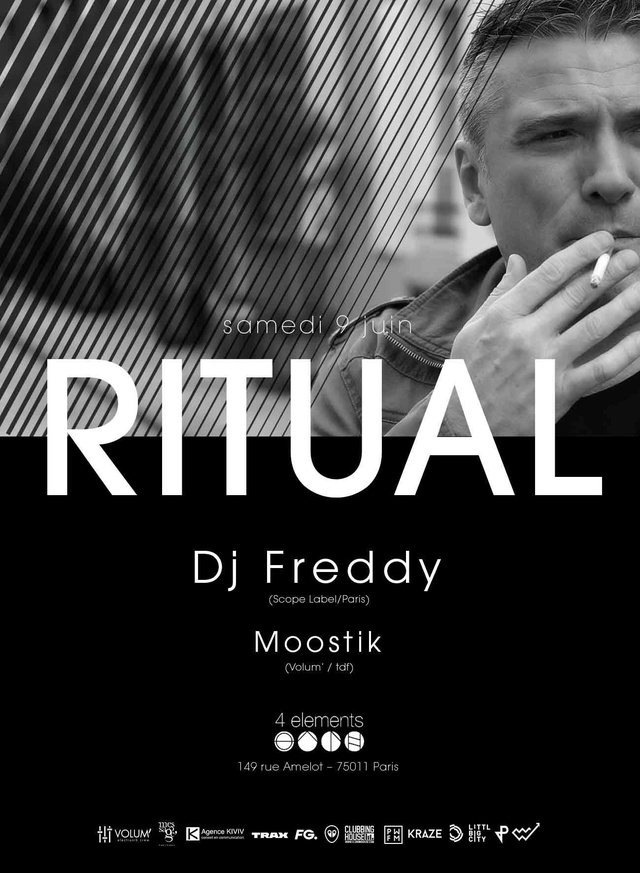 Mages :
Dj Freddy (Scope Label / Paris)
https://soundcloud.com/dj-freddy
https://www.mixcloud.com/levesquedjfreddy
https://www.facebook.com/DJFREDDY.official
Issu des 1ères générations Dj's au début de la House music. Freddy débute dans sa Normandie natale, dans un club mythique, ses soirées sont restées légendaires. Il y fit découvrir ses influences : Acid jazz, Garage, House & Techno from Chicago, Détroit, New York. Remarqué par David Guetta qui était à cette époque directeur artistique du Queen (Paris), Freddy y résidera; durant les meilleures années du lieu.
Il joua dans les clubs Parisiens : l'Enfer, le Rex Club ainsi qu'à l'étranger : The Edge (Sao Polo), The End (London), Le Fuse (Bruxelles), Pacha & Amnésia (Ibiza), et de gros festivals : I love techno, Nuits Sonores etc...
Auteur des 6 fameuses compilations Scream sorties chez Universal, restées intemporels.
Classé parmi les 10 meilleurs Dj's mondiaux par la presse musicale spécialisée, Freddy accompagnera des pionniers tels que Jeff Mills, Richie Hawtin ou encore Carl Cox lors de leurs tournées Européennes…Ses 1ères productions sous le pseudo Raff'n'Freddy : « Listen & Deep Progress » compilés sur Global Underground & Bedrock (Sasha & John Digweed), dont notamment son titre « Emergency Delivery » qui n'a pas pris une ride, c'est aujourd'hui un des tubes du DC 10 à Ibiza, compilé sur Hot Creations en 2016.
Toujours dans l'air du temps, cette année, Freddy lance sa propre soirée « Scope Label Night » en y invitant des dj's internationaux.
Moostik (Volum' / tdf)
http://soundcloud.com/dj-moostik
https://www.facebook.com/djmoostik
http://www.residentadvisor.net/profile/moostik
https://twitter.com/djmoostik
Une ouverture de cérémonie Deep et House pour l'insecte electro' éclectique…
Cérémonie gratuite
Succulents breuvages en abondance pour toutes bourses, espace de « méditation » et fumoir.
LE 4 ELEMENTS : 149 rue Amelot - 75011 Paris
Métro République / Filles du Calvaires / Oberkampf
01 47 00 34 11
160 m2 répartis sur 2 étages et 4 antres ou vos 5 sens seront en éveils.
Web :
http://www.bar4elements.com
Facebook :
https://www.facebook.com/4elements2.0
Facebook Volum' crew : Laisse ton adresse en mp sur la page et reçois les infos soirées, mixs, ... :
https://www.facebook.com/Volumcrew