Le bonjour au forum !
Tu aimes les soirées dégoulinantes d'AciD ? … Tu es au bon endroit !
«Fin des années 80, la Techno atteint l'Europe. En Angleterre, l'Acid y prend des proportions démesurées, ce qui prévaudra à l'été 88 d'être surnommé "The Summer of Love".»
Qu'il soit groove ou sombre, le son atypique des Rolands reste et séduit. Du vieux briscard de la Rave Londonienne jusqu'aux jeunes pousses prometteuses de la scène Parisienne et autres pirates écumants les Free Party, les soirées «ACID' WHIRL» t'entrainent pour un voyage hors du temps...
ACID' WHIRL
Samedi 7 juillet 2018 - 22 h 45 … 6 h
Event Facebook :
https://www.facebook.com/events/221025161981690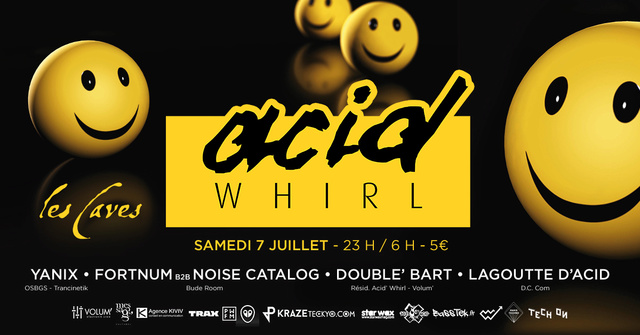 ACID' LINE UP :
BUDE ROOM' B2B
https://soundcloud.com/buderoom
https://www.facebook.com/BudeRoom
https://www.instagram.com/bude_room
Fortnum
https://www.facebook.com/djfortnum/?fref=ts
Noise Catalog
https://soundcloud.com/noise-catalog
https://www.facebook.com/noisecatalog
Le collectif parisien Budé Room est le fruit d'une bande de potes passionnés de Techno depuis plus de 25 ans... Actuellement résidents sur la radio Deep Kulture, vous les retrouvez pour le Budé Room Radio Show et les Budé Room Mix Sessions avec leurs invités, chaque vendredi soir de 21 h à 23 h.
Membres fondateurs et artilleurs en chef du collectif, Fortnum et Noise Catalog aiment par-dessus tout partager leur passion aux platines. Rompus à l'exercice du B2B, qu'ils ont fait résonner en de nombreuses occasion à Paris notamment lors de leur résidence au 4 Eléments ou invités par leurs amis de Drøm-Ørigin, ils vous cueilleront au beau milieu de la nuit et vous proposeront leur lecture, martiale et tonitruante, de l'Acid Techno.
Rave on !!
Yanix (OSBGS - Trancinetik)
https://soundcloud.com/djyanix
http://www.mixcloud.com/yanix
http://www.trancinetik.com/artist/yanix
https://hearthis.at/yanix-levrai-9l
http://www.oldschoolbutgoodschool.com/our-residents-djs
Dj réputé pour son style racé et pointu, Yanix nous fera décoller avec une Techno implacablement envoûtante. Il compose et mix toujours avec ses amis djs de Paris et d'ailleurs. En 2013 il vient d'intégrer le collectif Old School but Good School et continue sa collaboration avec le collectif TRANCINETIK !
Il mixe toujours vinyl only of course !
Double' Bart (Résidents Acid' Whirl / Volum' - FR)
https://soundcloud.com/user-88717804
https://www.facebook.com/Double-BART-acid-b2b-431591720539382
Une histoire contée au travers d'un b2b acidifié, fruit de 25 années à barouder avec leurs bacs de disques dans les Raves et les Free Party. Ils ont partagé les platines avec Joey Beltram, Popof, Olivier Giacomotto, ESP aka Woody Mc Bride, Chaotic Ramses, Bertrand, The Speedfreak, Producer, Arone Liberator (Stay Up Forever), Jhon Thomas, Traxx Dillaz - FKY - Arobass - Ekare - Babylone Joke (OQP), LSDF, Manu +, X. TAao (DSP Rec.), Signal Electric (Expressillon), ...
Lagoutte d'Acid (D.C. Com - Paris - FR)
https://www.mixcloud.com/yannlgtt
https://www.facebook.com/lagouttedacid
Jeune technicien son, se cherchant encore, une chose est certaine : il a un petit faible pour ces lignes de basses «acidulées». Qu'elles soient douces et réconfortantes ou bien au contraire agressives et repoussantes, Lagoutte d'Acid y trouve son compte en s'amusant avec cette sonorité si particulière. Ne vous attendez pas à un style particulier car l'Acid peut-être partout. Mais ne vous en faites pas, la cadence sera au rendez-vous pour vous mettre le pied à l'étrier et vous envoyer dans un océan d'Acid.
Fumoir
INFOS PRATIQUES
Capacité limité, venez tôt
Sur place : 5 e
Les Caves Saint Sabin : 50 Rue Saint-Sabin, 75011 Paris
Métro: Bréguet-Sabin ligne 5 / Chemin-vert ligne 8 / Richard Lenoir ligne 5
FB :
https://www.facebook.com/lescavesbastille
Caves voûtées à pierres apparentes du XVIIe siècle organisant des bars à thèmes, Soirées Costumés ou encore Party Electro.
Plan :
https://www.google.fr/maps/place/Caves+Saint-Sabin/@48.8586372,2.3691235,15z/data=!4m5!3m4!1s0x0:0x389fcbb95327b703!8m2!3d48.8586372!4d2.3691235
Collectif œuvrant principalement sur Paris, Volum' rassemble djs, organisateurs, … mais surtout les passionnés de musiques électroniques au travers de manifestations aux couleurs Deep, House' Techouse, Techno, Acid, Ambient etc ... Laisse ton mail en mp sur la page Volum' crew et reçois infos soirées, mixs, ect …
FB :
https://www.facebook.com/Volumcrew