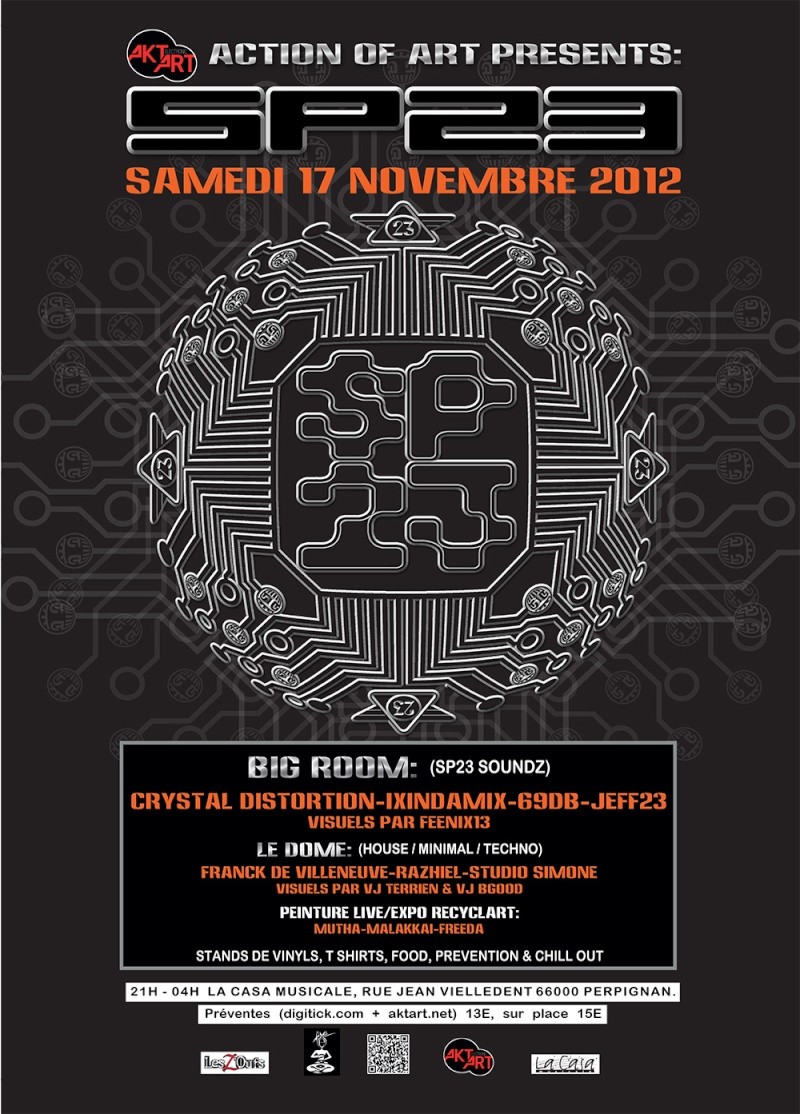 SOIREE DE LANCEMENT DE AKTART FILIERE EVENEMENTIELLE DE ACTION OF ART
ACTION OF ART est un collectif novateur et ambitieux, voué exclusivement à l'offre de services d'aide au développement d'artistes, ou groupes d'artistes de tous horizons.
Pour se faire, nous proposons une plateforme de communication web et nous organisons aussi des évènementiels culturels sous forme de tremplins et d'expositions d'art.
L'unique but de notre structure est de promouvoir les artistes amateurs, de donner un maximum d'essor à leur activité via notre site internet et nos actions sur le terrain.
ACTION OF ART presents SP 23 EUROPEAN TOUR 2012 / PERPIGNAN
Samedi 17 Novembre / La Casa Musicale (Perpignan) / 21h00 à 04h00 /
www.casamusicale.net/
Préventes (
http://digitick.com/
,
http://aktart.net/
) : 13€ / Sur place : 15€
Capacité de 1300 pers. / Bar ext. / Chill Out / Déco & Visu / Perf. Graff'. / Stands & exposants / Prévention / Food !!!
Facebook event :
https://www.facebook.com/events/429890083735521/
Video Teaser :
https://www.youtube.com/watch?v=TbI57HXC7l0
MAIN ROOM:
- CRYSTAL DISTORTION, (Expressillon / Network 23), un des principaux producteurs de la scène underground techno, aussi pionner du collectif SP / Network 23, avec une 100aine d'EP à son actif depuis 1991.
Son style est particulièrement débridé et inventif,de sonorités hardtech, acidcore et breakbeat qu'il distord, il vous jouera une musique qui ira du 100% dancefloor au plus hardfloor.
http://soundcloud.com/lab51rat
/
https://www.facebook.com/pages/Crystal-distortioN/232301436969
- IXINDAMIX, (Audiotrix), nomade dès l'âge de 17 ans, elle croise la route du Sound System Spiral Tribe et découvre les joies du Djing. Après un grand nombre de maxis sur les labels SP / Neetwork 23, Ixi crée son propre label Audiotrix, tout en collaborant notamment avec Perce Oreille et Passe Muraille. Aussi présente dans l'under que l'overground, elle multiplie les albums teintés d'humour et de féminité.
http://www.audiotrix.org/
/
https://www.facebook.com/Ixindamix
- 69DB, d'abord batteur dans un groupe de rock psyché à Londres, il est pris par la déferlante acidhouse sur toute l'Angleterre. Pionner autant par la musique, que par l'organisation de free party, avec aussi les Spiral Tribe, il explore et se forge dans les musicalités Jungle, D'n'B, Break mais aussi Hardtech en laissant une grande place à l'improvisation.
http://www.mixcloud.com/69db/
/
https://www.facebook.com/CJ69db
- JEFF 23, précurseur dans l'organisation des 1ères raves londoniennes, c'est en 1991 qu'il prend le contrôle des platines régulièrement pour les Spiral Tribe. Auteur d'une 40aine de maxi principalement sur les labels Elegal Electronics et Maximum Reception. Il démontre son savoir-faire grâce à ses sélections allant du garage à l'électro break, en passant par des phases teintées de boucles technos mentales, toujours envoyées avec un sens aiguisé du dancefloor.
http://www.myspace.com/23jeff
/
http://soundcloud.com/jeff23
- Visuel assuré par FEENIX 13, résident du label Audiotrix qui s'est formé dans l'art du Vjing, dans le milieu underground.
DÔME:
- FRANCK DE VILLENEUVE, (Tactile audiovisuel Dj set), son nouveau concept de mix tactile apportera une dimension créative et une profondeur sonore des plus créative. Il fait parti de ces artistes chercheurs qui possèdent leur grain, leur propre groove de ceux qui nous invitent au voyage, quelque soient les styles traversés.
http://www.franckdevilleneuve.com/
- RAZHIEL, Dj & producteur a à son actif différents labels, de toutes mouvances, allant du plus hardfloor au plus dancefloor. Il s'est récemment orienté vers des tonalités plus électro, techno, minimal voir D'n'b, et Dubstep.
http://www.kodproductions.com/neokoros/
- STUDIO SIMONE, Dj set alliant des musicalités Techhouse, Techno et Minimal
http://soundcloud.com/studio-simone
- Visuel assuré par Vj Terrien et Vj Bgood
PERF. GRAFF: Mutha & Malakkaï
EXPO RECYCL'ART: FREEDA
STAND DISQUES: DRISS 303
STAND TEE SHIRTS: Mutha
PREVENTION, REDUCTION DES RISQUES & CHILLOUT: KORZEAME
http://www.korzeame.com/
FOOD: ASSO LES Z'OUFS