Tune in for Mihalis Safras guest mix represented as part of "Cloning Sound radio show with Pacho & Pepo" weekly broadcast on Ibiza Global Radio, Digitally Imported, Vicious Radio and other global outlets:
http://www.mixcloud.com/cloningsound/mihalis-safras-guest-mix-cloning-sound-radio-show-with-pacho-pepo/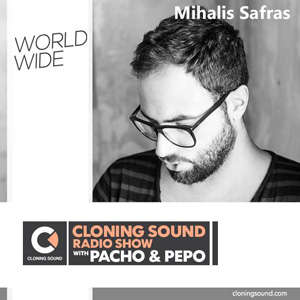 Cloning Sound is a record label run by DJs & Producers Pacho & Pepo based in Bulgaria. Their main idea is to create a selective criterion for intelligent techno and deep tech vibes.
A track from the latest compilation under Cloning Sound "Summer Mood 2014" is featured in this month's essential tech house selection by Beatport: "Secret Weapons". This is Factuaw's blistering "Snaps'n Sens":
http://www.beatport.com/charts/secret-weapons-tech-house/303674
Moreover, Pacho & Pepo have just released five best remixes of their track 'Life Rules' selected through "Cloning Wars" Remix Contest held in May-June 2014. Now the remix by James Attera is featured in Magnetic Magazine's techno-edged Best House Chart :: week 42:
http://www.magneticmag.com/2014/10/chart-best-house-music-week-42/
More releases from Spanish Dj & Producer The Natural as well as from the label co-owners, Pacho & Pepo, are coming soon.
Stay tuned:
http://soundcloud.com/cloningsound
http://www.beatport.com/label/cloning-sound/12848
http://www.residentadvisor.net/record-label.aspx?id=2480
https://www.facebook.com/cloningsound
http://twitter.com/cloningsound
http://cloningsound.com