Ola le fofo !
Vendredi 29 juin 2018 – 23 h … 6 h
Techno / Acid' Techno / Industriel
Event Facebook :
https://www.facebook.com/events/868133520047516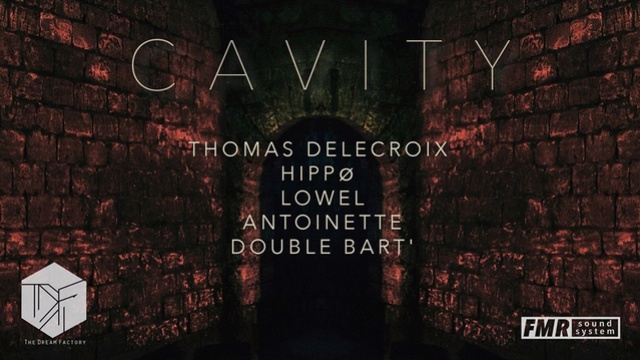 Au croisement du club et de la rave, du glauque et du strass on trouve le « CAVITY ».
Venez découvrir ce spot le VENDREDI 29 JUIN et explorer les tréfonds parisiens, avant qu'ils ne retombent dans l'oubli !
Dans la pierre, sous le bitume, des voûtes prêtes à résonner au rythme d'une Techno brute avec les collectifs TDF et FMR.
LINE-UP :
Thomas Delecroix (Newtrack / Rive Droite Records)
https://soundcloud.com/thomas-delec
https://www.facebook.com/thomas.delecroix
Fondateur et patron du label Rive Droite Records il est aussi résident émérite des collectifs parisien Newtrack et Alternative Projects Thomas Delecroix a pris l'habitude d'alimenter les foules d'une techno minérale sans détours, répandant ainsi la foi électronique dans sa plus pure radicalité. Producteur, Dj, Live Performer et Sound Designer, il arpente en marge des dancefloors les territoires raw techno, breakbeat et acid. Il usine aussi des mélodies cinématographiques ainsi que des expériences de spatialisation, à l'image de son installation en 4.0. Volubilité fugace, silencieuse, il savoure le mot et le kick avec le même goût de l'aventure sensorielle, chamanique, épique. In Techno Veritas.
Lowel (The Dream Factory)
https://soundcloud.com/tdf-music
https://www.facebook.com/TDFmusic
https://www.facebook.com/lowelmusicparis
Né au milieu des années 90, Lowel a débuté la musique par le jazz, avec différents instruments comme le piano et la batterie avant de découvrir sa passion pour la musique électronique vers 17 ans.
Il se plonge alors dans l'univers du mix et la production, se spécialisant dans une techno mélodique mais puissante, mélangeant des sonorités acid avec des ambiances atmosphériques. A la recherche de profondeur et d'impact dans ses sonorités, il aborde la musique comme un véritable voyage émotionnel...
Cofondateur du collectif et label The Dream Factory, il a fait ses premiers pas dans des clubs tels que: L'Officine 2.0, A La Folie Paris, le Redlight, le Pigallion, la Terrasse du Batofar, les 4 Elements, le Panic Room, mais également à Montréal, au Club Unity, Nomad Live, Club Play. Après avoir passé un an a Montréal, il est désormais basé à Paris.
Double' Bart (Résidents Acid' Whirl / Volum')
https://soundcloud.com/user-88717804
https://www.facebook.com/Double-BART-acid-b2b-431591720539382
Une histoire contée au travers d'un b2b acidifié, fruit de 25 années à barouder avec leurs bacs de disques dans les Raves et les Free Party. Ils ont partagé les platines avec Joey Beltram, Popof, Olivier Giacomotto, ESP aka Woody Mc Bride, Chaotic Ramses, Bertrand, The Speedfreak, Producer, Arone Liberator (Stay Up Forever), Jhon Thomas, Traxx Dillaz - FKY - Arobass - Ekare - Babylone Joke (OQP), LSDF, Manu +, X. TAao (DSP Rec.), Signal Electric (Expressillon), ...
Antoinette (FMR)
https://soundcloud.com/antoineantoinettelarhant
https://www.facebook.com/antoinettewashere
https://www.residentadvisor.net/dj/antoinette
DJ-Producteur. Co-fondateur et résident du collectif FMR Sound-System. Antoinette oscille entre la Techno et ses dérivés et la House et ses sous-genres tirant le maximum des genres qu'il affectionne.
Hippø
https://soundcloud.com/hippo666
https://www.facebook.com/Hipposound
Décos / fumoir
Caves Le Chapelais : 7 Rue Le chapelais, 75017 Paris
10,49 € en préventes (capacité limitée)
Préventes :
https://digginapp.com/tickets/cavity