Hello le forum !
Fais chauffer tes baskets, pare toi de tes plus beaux habits de lumière et sonnes le ralliement de ta tribu, Volum' et leurs amis te convoquent pour une messe 100 % Techno dans une atmosphère plus qu'ardente.
Let's celebrate the night !
!! HURRICANE !!
Samedi 15 juin   – 23 h 45 …  6 h
Event Facebook :
https://www.facebook.com/events/1828315523934852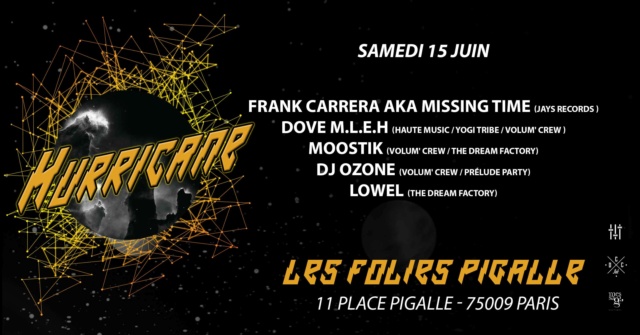 Avec
Dove M.L.E.H. (Haute music / Yogi Tribe / Troyes)
https://soundcloud.com/dove-mleh
https://www.facebook.com/Dove-MLEH-311890895523
Chaque pas, chaque glissement, chaque tour ou demi-tour, chaque hochement de tête sont exécutés sous les flashs des stroboscopes... Les basses vibrent et pulsent comme un cœur déchaîné qui exploserait de l'intérieur et se viderait en un flot continu anarchique. Dove a une mission : gonfler les gens à bloc, les détendre, les faire tomber amoureux ...
Moostik (Volum' / tdf)
http://soundcloud.com/dj-moostik
https://www.facebook.com/djmoostik
http://www.residentadvisor.net/profile/moostik
https://twitter.com/djmoostik
Schizophrène, l'insecte est à l'aise sur de nombreux terrains. Ses horizons s'étendent de la Deep la plus velours à la Techno la plus brutale et s'égarent parfois dans les Breakbeats ou l'Acid.
L'engouement pour les productions récentes et la nostalgie des vieilles fêtes, métissent ses mixs de morceaux cultes et nouveaux.
Le groove restera incontestablement le fil conducteur qui maintiendra la cohérence de ses sets.
Ozone (Volum')
https://soundcloud.com/dj-ozone-377181673
https://www.facebook.com/DJ-OZONE-527717994044954
Issus de la scène Sénonaise et mixant depuis une vingtaine d'année, avec passion et étant passé par plusieurs styles dont la Hardtechno et l'Acid, Dj Ozone et l'association Kartel organisent différentes soirées en 1999/2000 au Dôme de St Ange ainsi que dans maintes autres endroits. Il a ainsi joués avec Okupé, LSDF, Spiral Tribe, John Thomas et bien d'autres. Après quelques années Dj Ozone ce fixe sur un style plutôt Techhouse, Techno assez mental mais toujours dansant. Récemment vous avez pu le voir mixé au 4 Eléments, au Bric à Brac et divers pub et club de Paris. Toujours passionné par les platines, c'est un Dj à découvrir ou à redécouvrir. D'autre part Dj Ozone a aussi composé plusieurs morceaux.
Let's dance !
Frank Carrera aka Missing Time (Awen Records / Hydrogen Inc.. / Plethora Muzik / Jays rec. / Logistik Sound)
https://www.mixcloud.com/missingtime
https://www.facebook.com/frankcarreramusic
https://twitter.com/CarreraFrank
https://instagram.com/_u/frankcarrera
Originaire de Paris, Frank Carrera est un globe-trotteur de la planète Techno. DJ et Organisateur d'événements depuis des années, il s'est mis à la production depuis 6 ans.
Signé chez Jays Records depuis 5 ans, il revient avec plusieurs tracks signés sous son projet Missing Time sur différents labels dont le dernier chez Awen Rec et remixé par le producteur Christian Monique. Frank Carrera multiplie les collaborations avec de nombreux artistes internationaux.
Son univers musical résolument Teck House et Techno dont il s'est inspiré de ses références: Olivier Huntemann, Carl Cox, Marco Bailey, Axel KaraKasis, Sasha Carassi, Spektre, Spartaque,Tom Hades, Luigi Madonna, John Acquaviva, Olivier Giacomotto, Tonio, Kiko, Citizen Kain, Flex et tant d'autres.
En 2005, il s'installe dans l'Océan Indien sur l'ile de la Réunion où il a multiplié les dates et collaborations sur toute l'ile. En 2008, il est remarqué par Nicox Pushykiller avec qui il collabore sur sa tournée européenne et sur le Label Nicox Family Rec. En 2010, il s'associe et travaille avec Dj Vortkx dans de nombreux clubs de la région Toulousaine jusqu'à son entrée au sein de l'Insomny Concept. En 2011 ils montent ensemble logistik-sound ayant pour unique mission faire danser la planète.
Ses dernières prestations se sont déroulées aux côtés d'artistes internationaux et nationaux tels que : Eric Tarlouf, DJ Bart, D'Jamency , Mike Spirit , Pushykiller, Luis Cunha, Flex, Peha, Franck de Villeneuve, Adrien Fontaine, Noaria, Bob Saggart, Arnauld Stengel, Terry laird, Jean Marie K, Silicon Sound, Natalino Nunes, A.Paul, Pascal Roeder…
Lowel (The Dream Factory)
https://soundcloud.com/djlowel
https://www.facebook.com/loweldj
https://soundcloud.com/tdf-music
Né au milieu des années 90, Lowel a débuté la musique par le jazz, avec différents instruments comme le piano et la batterie avant de découvrir une passion pour la musique électronique vers 17 ans.
Il se plonge alors dans l'univers du mix et de la production, se spécialisant dans une techno mélodique mais puissante, mélangeant des sonorités acid avec des ambiances atmosphériques. À la recherche de profondeur et d'impact dans ses sonorités, il aborde la musique comme un véritable voyage émotionnel.
Cofondateur du collectif et label The Dream Factory, il fait ses premiers pas dans des clubs tels que : L'Officine 2.0, À La Folie Paris, le Redlight, le Pigallion, la Terrasse du Batofar, les 4 Elements, le Panic Room, mais également à Montréal, au Club Unity, Nomad Live, Club Play. Après avoir passé un an a Montréal, il est désormais basé à Paris.
Entrée 15 euros et 5 euros avant 1h – fumoir
Folies Pigalle
11 Place Pigalle, 75009 Paris
Métro Pigalle ligne 2-12
Line 07 51 06 70 10
Facebook :
https://www.facebook.com/folies.pigalle.50
Facebook Volum' crew :
https://www.facebook.com/Volumcrew
Laisse ton mail en mp et reçois les infos soirées et les mixs du collectif.