Salut à tous,
Petite visite pour vous tenir au courant de la prochaine BACK 2 REAL GROOVE
ça se prépare pour le samedi 8 Février
On attaque à 22h pétante !
"GROOVE"? ... Notion nébuleuse... Est-ce ce qui va faire la différence entre un track terne et celui qui va donner un irrépressible désir de bouger sur des beats chaloupés? On associe régulièrement ce mot pour caractériser les rythmes aux Blacks' musics.
Chez BACK 2 THE REAL GROOVE, notre définition serait celle-ci en tout cas et notre invité PACO en représentera dignement les couleurs pour l'occasion...
Invitation facebook:
https://www.facebook.com/events/768815533135260/?context=create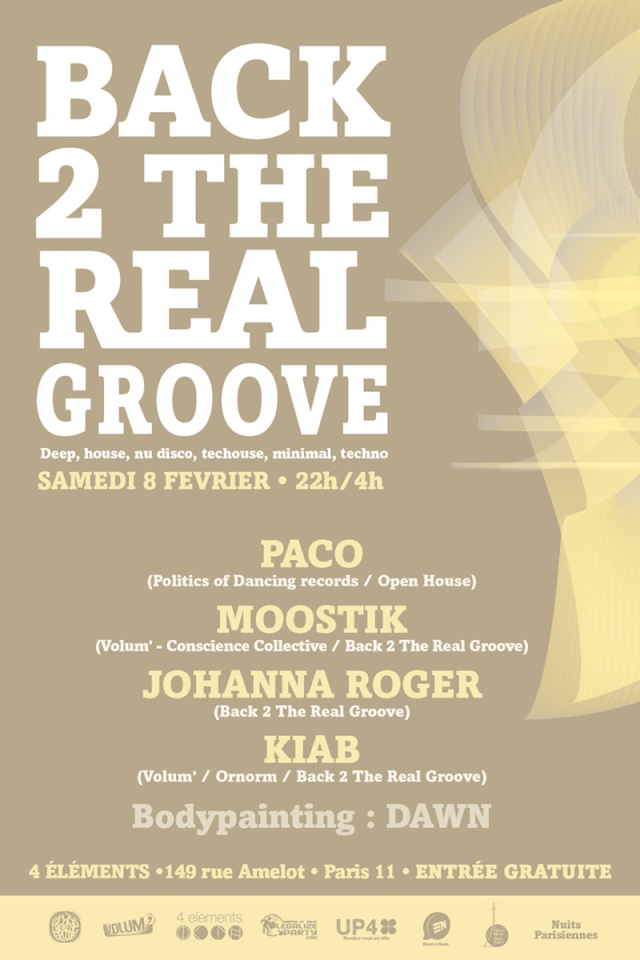 Deep, house, nu disco, techouse, minimal, techno ... mais groooooove !
Dj'sets:
PACO (Politics of Dancing / Open House)
https://soundcloud.com/guillaume-paco
https://www.facebook.com/pages/Paco-Open-House/387341078082
https://soundcloud.com/politics-of-dancing
En 1989, après avoir passé son enfance et son adolescence en Afrique, il rentre en France et tombe dans l'Acid House, le regard tourné vers les clubs de Chicago…
Puis Paco commence à être invité dans des festivals (Astropolis...) sur les mêmes scènes que les artistes de renom que sont Laurent Garnier, Jeff Mills ou Josh Wink.
Sa musique à la fois festive et pointue, mêlant habilement House, Techno et Disco lui permet de se produire régulièrement à l'étranger et décide de  fonder Open House avec Lorenzo Buitoni dont il  forge l'identité musicale dans des salles aussi prestigieuses que l'Elysée Montmartre, Le Bataclan, ...
Il s'est aussi produit dans la majorité des clubs qui font la scène française, le Rex, Le Baron, Le Queen, Le Redlight, Le Mix Club, Le WAGG, La Villa Rouge, Le Batofar, La Péniche Concorde Atlantique, Le Showcase, Régine's, Le Folies Pigalle ou encore le 287 pour les fameuses After parties Kit Kat…
Paco, en amateur éclairé et talentueux de «Dance Music» au sens large du terme, fait partie des deejays français les plus respectés pour son professionnalisme, son expérience et son ouverture d'esprit. Il s'est produit dans de nombreux pays (Brésil, Belgique, Angleterre, Suisse, St Martin, Guadeloupe, Iles Canaries, Etats Unis, Pays Bas, Italie, Espagne, Tunisie, République Tchèque, Slovaquie, Portugal, Maroc…) et peut, en une nuit, vous emmener de la Deep House la plus profonde au Disco le plus enlevé… Il est de ceux capables, en un tour de vinyle, de métamorphoser n'importe quel public en clubbers comblés.
Résidents Back 2 The Real Groove:
MOOSTIK (Volum' - Conscience Collective)
http://soundcloud.com/dj-moostik/tracks
https://www.facebook.com/djmoostik?fref=ts
http://www.residentadvisor.net/profile/moostik
https://twitter.com/djmoostik
JOHANNA ROGER
http://soundcloud.com/johanna-roger
https://www.facebook.com/johanna.roger1
KIAB (Volum' – Ornorm)
http://soundcloud.com/dj-kiab
https://www.facebook.com/pages/Deejay-KIAB/174288499315784?ref=ts
Avec DAWN le bodypainter de l'asso Volum'
https://fr-fr.facebook.com/dawnlightgraff
BAR LE 4 ELEMENTS :
149 rue Amelot
75011 Paris
Métro République / Filles du Calvaires / Oberkampf
01 47 00 34 11
Gratuit, espace fumeur, chill-out, fermeture 4h
http://www.bar4elements.com/
Facebook:
https://www.facebook.com/pages/4-ELEMENTS/147193916143?ref=ts
160 m2 répartis sur 2 niveaux et 4 salles, la structure est un hybride entre bar et club ou tes 5 sens seront en éveils.
Doté d'un sound-system multi diffusion Electrovoice l'endroit se veut avant tout dédié à une programmation pointue et éclectique.
BACK 2 THE REAL GROOVE :
Facebook : BACK 2 THE REAL GROOVE
https://www.facebook.com/groups/297660327013580/?ref=ts
Asso VOLUM':
Facebook: Volum' Events Paris
https://www.facebook.com/VolumEvents
Twitter: volumparty
https://twitter.com/volumparty