Feeling and Sound présente :
VENDREDI 18 AVRIL 2008
ELECTRO-ROCK @ PIMENT ROUGE - GENEVE
Soirée electro-rock au Piment Rouge avec deux groupes suisses (
MXD
&
Edit Presents
) qui ont fait leur preuves sur les scènes des meilleurs festivals suisses comme Paleo 2006 ou le Caprice Festival l'année dernière ainsi qu'aux Eurockeenes de Belfort. Riffs de guitares nerveux, machines surpuissantes et chant complètement barré pour deux concerts qui risquent de laisser des traces sous les semelles…
Avec :
MXD (Live tekno metal – Escudero Records / CH)
EDIT PRESENTS (Live electro rock – Spoutnick Records / CH)
HERR LIEBE (Dj set electroclash, EBM – Urgence Disk Records / CH)
/h5N1/ (Dj set electro – Feeling and Sound / FR)
PIMENT ROUGE
Quai du Rhône, 4
Artamis, 2min de l'Usine
CH - 1200 GENEVE
(centre)
12chf dès 22h
Plan d'accés ici
www.feelingandsound.com
www.aupimentrouge.ch
MXD
(TECHNO METAL – Escudero Records / CH)
MXD est un groupe d'éléctro-métal formé en 1997. Au début le groupe est instrumental, composé de 3 membres, Alex et Solex aux machines et Oli à la guitare. Le premier album "Electrolab Inc." voit le jour en 1998. Ce disque permet au groupe de faire des premières parties telles que Prodigy, The Chemicals Brothers et de jouer devant une salle comble au Paléo Festival de Nyon, sur la scène du Club Tent.
Quelques années plus tard Duja, le chanteur, vient rejoindre les rangs de MXD. 2 albums voient le jour "Doping The Beat" et "Musicogenic" respectivement en 2000 et 2002. En 2003, le groupe gagne le tremplin des Eurocks de la radio Couleur 3, ce qui leur permet de jouer aux Eurockéennes de Belfort. En juin 2004, Oli quitte MXD et est remplacé par Drop, également guitariste du groupe Sybreed. MXD composent alors leur 4ème album "Frustration Is Fuel" qui sort en 2005 sous le label Equilibre Music. Ils tournent dans la foulée un clip pour le morceau "B-Trial" qui est actuellement diffusé sur MTV, MCM, TSR2... morceau qui a d'ailleurs été pendant 3 mois en repérages sur la radio Couleur 3.
Début 2008, le groupe signe sous le label ESCUDERO records et est actuellement en pleine composition de son 5ème album...
www.myspace.com/mxd
EDIT PRESENTS
(ELECTRO ROCK – Spoutnick Records / CH)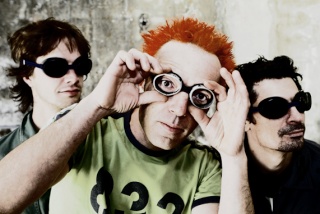 Sur des rythmes endiablés, des guitares saturées et accompagnées de techno puissante, ce groupe aux influences électro-punk saura vous faire bouger sans répis.
Groupe natif de la région sierroise (vs), EditPresents a vu le jour en 2004 et se compose de trois membres: Zebulon au chant distorsionné et à la guitare saccadée ; il a la fâcheuse tendance à ne pas rester plus de 2 secondes au même endroit sur scène ! Yanock, batteur assidu aux rythmes effreinés, donne les impulsions énergiques aux compositions du groupe. Dernier venu, N3cron, bidouilleur de génie sur son ordinateur, accompagne de ses prouesses électro la prestation du trio. Edit Presents a sorti son premier album en 2007, enregistré au Spoutnick Studio à Ardon, mixé au Roystone Studio à Charrat et masterisé par Kevin Metcalfe du Soundmasters Studio à Londres.
www.editpresents.ch
www.myspace.com/editpresents
HERR LIEBE
(ELECTROCLASH, EBM – Urgence Disk Records / CH)
Fondateur du label Genevois Urgence Disk Records et du groupe BAK XIII, Herr Liebe nous fera partager les richesses de son bac à disques, entre electroclash et EBM teinté 80's.
www.myspace.com/herrliebe
/h5N1/
(ELECTRO – Feeling and Sound / FR)

Duckk (/h5N1/) est dj depuis 2001, après une residence dans le fief de l'electro en Rhône-Alpes (MARK XIII de Grenoble), Duckk a parcouru les clubs de France, Suisse et même Allemagne et Hongrie, non seulement derrière les platines mais également avec son projet live avec Wäks.
www.myspace.com/duckkdj