Bien le bonjour et un poil à la bourre une bonne année au forum !
Dans un Bric à Brac infernal de ziks électroniques en tous genres, VOLUM' remet le couvert du côté d'Oberkampf avec en invité Badmanxl !
Ça va guincher sever !!
SAMEDI 19 MARS 2016 … on attaque à 20h (peut-être avant) et jusqu'à 2h du mat !
PUMP' UP THE VOLUM'
Event facebook:
https://www.facebook.com/events/226340291034589/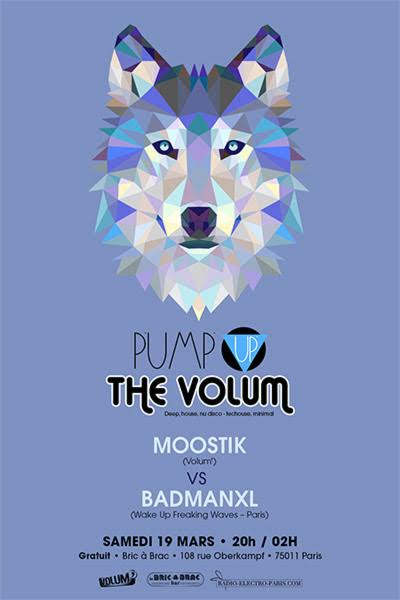 all styles of electronic music more ...with
BADMANXL (Wake Up Freaking Waves – Paris)
https://www.mixcloud.com/badmanxl/
https://hearthis.at/badmanxl/
BADMANXL aka Badis, ancien organisateur des Wake Up Freaking Waves, DJ et VJ, ce geek clubbeur touche à tout est de retour le temps d'une nuit pour passer du son en jonglant sur différents styles.
Hell yeah!!! Challenge accepted !!!
B2B
MOOSTIK (Volum')
http://soundcloud.com/dj-moostik/tracks
https://www.facebook.com/djmoostik?fref=ts
http://www.residentadvisor.net/profile/moostik
https://twitter.com/djmoostik
Schizophrène, l'insecte est à l'aise sur de nombreux terrains.
Ses horizons musicaux s'étendent de la deep la plus velours à la techno la plus brutale, traversent la minimal et peuvent aussi s'égarer dans les breakbeats.
L'engouement pour les productions récentes et la nostalgie des vieilles fêtes, métissent ses mixs de morceaux cultes et nouveaux.
Le groove restera incontestablement le fil conducteur qui maintiendra la cohérence dans ses sets.
!! PUMP UP THE PARTY !!
Free & cool' bar prices
BRIC BRAC:
108 rue Oberkampf - 75011 Paris
M° Parmentier (ligne 3) / M° Menilmontant (ligne 2)
Facebook :
https://www.facebook.com/LEBRICABRACBAR
Asso VOLUM': Facebook: Volum' Events Paris
https://www.facebook.com/VolumEvents
Création graphique: Nico
https://www.facebook.com/comcaseprononce?fref=ts